Yojna HRMS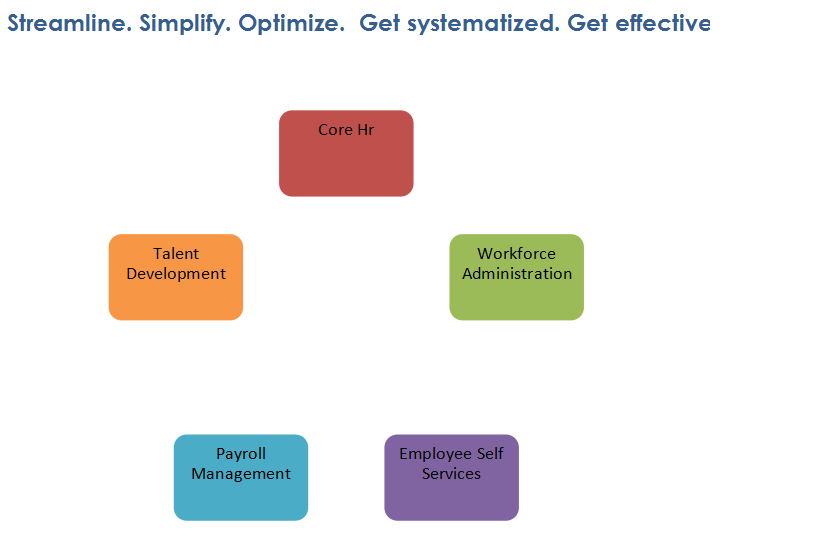 Core HR
The need to capture the organizational structure and maintain the employee data within the YojnaHRMS application is paramount for any organization to support tracking and compliance requirements as required by regulatory authorities.
The employees are the life blood of any organization and with YojnaHRMS's Employee Master module, we make it possible for you to capture the entire employee life cycle - starting from hire to retire.
Within the YojnaHRMS application, we categorize the employee life cycle into 4 broad categories: Employee creation, Employee confirmation, Employee movement & Employee separation.
Employee Creation Process
Employees brought in through direct hire process, will need to have a record of their personal, job and employment information in our HR database, each employee being distinguished or identified by a unique code number. We allow you to custom define your code generation process to suit your specific business needs. You can also define your compensation template based on your organization's structure and design your compensation letters based on job levels and grades. Employees once created in the HR system will have access to fill in the rest of their personal and other details through our self service module.
Employee Confirmation Process
Employee on probation can either be confirmed manually or automatically based on the setups you define in the employee confirmation module. However you wish to do it, Confirmation can be done with or without appraisal process.
Employee Movement
We understand, employee movements occur as a result of transfers, promotions, data changes. Employees can be moved seamlessly across, as per the configuration setups for movement in our YojnaHRMS software. For all payroll related changes, we provide additional pay related fields that are required to accomplish these changes with ease.
Employee Separation
The final process of separation & deactivation of employee from the organization records can also be achieved easily using YojnaHRMS. Once all activities are completed and approved by the respective owners, HR can put salary on hold and reassign employee's reportees and role players to another designated person. This will flag the employee's closure process and the employee can thus be deactivated from the system
Workforce Administration
Managing the workforce is an ongoing activity that is performed by the HR function within an organization and may seem mundane and a non-value added activity but failure to monitor the workforce, compliance, and ensure ongoing optimization can lead to a significant impact to the bottom line of an organization.
With YojnaHRMS's Workforce Administration Solution - Optimize your workforce efficiency through Self Service
* Manage compliance to absence and attendance * Pay employees based on their work contribution * Deliver superior customer service by having the right number of employees, in place at the right time * Monitor time, work and activity efficiently * Reduces paperwork and ensure timely expense reimbursements as per corporate guidelines
Travel Management
Depending on your various business needs to send your employees outstation or locally, our travel solution will help you handle all activities involved for, during and after travel. Right from Identifying the mode, purpose, carrier, class of travel to managing the ticketing and associated details accommodation, all are handled within the system. Our travel expense forms helps track advances, expenses and disbursement details as well.
Time & Attendance
Capturing of time from various sources across organization allowing employees to easily record their attendance details.
Timesheet Management
Our timesheet management solution will help you set up your customer and project information into the HR database, track time spent by employees engaged in project specific activities for billing purposes.
Claims & Reimbursement
If you have employees stacking your HR desk with bills of LTA, Medical, travel, food and you are looking at a quick way out to sort, approve and process them into payroll, our Claims and reimbursement module is a best place to check out! We have provision for eligibility setups against each reimbursement types and formula setups for easy approvals and effective processing into payroll.
Shift & Scheduling
Any diverse organization will need to have Shift solutions that can assist its employees work under different time zones as per their customer's work timings to support them effectively. At YojnaHRMS our Shift and schedule software will help you manage the various shifts for your employees; specify the Days/weeks when the shifts are applicable, tag the holidays, weekly offs to the shift accordingly.
Absence
Crediting leaves, adjusting leave balances and configuring leaves for employees are some of the major HR tasks for handling absence for employees in an organization. Be it encashing leaves, carrying it forward based on service levels, truncating/transferring leaves, or recovering leave from other leave types and any restrictions in applying for leaves and more can be configured by the HR for all its employees.
Asset Tracking
Right from creating the physical assets in your organization and assigning owners for them to tracking the employees asset request details, allocation information and hand over details are all recorded into the asset tracking forms that are made available in this module.
Employee Self Services
Employee self service at YojnaHRMS makes life much simpler and quicker. Engage and empower your employees to handle day to day operations by automating tasks to save time and effort. Cut on the paper work involved and offload your HR department by allowing your employees handle their tasks through Employee Self Service(ESS). By automating the process and approvals, TAT for processing employee transactions is greatly improved.
General
My information
If you want a space to write about yourself or blow your own trumpet about what you achieved, use My information form to update the same.
Asset request
Place request for IT assets such as laptops, telecom when you need them. Cancel them if you feel you wrongly placed a request.
Training management
This feature allows your employees to self nominate for a course or nominate their reportees. It also allows them to withdraw nomination, provide participant feedback and post training feedback. It helps employees to register for courses in advance and also check out the trainings available on the calendar.
Task management
Use this feature, to assign & track tasks, record minutes of meeting for all your meetings!
Travel Management
Use our Self service travel module to update your family's visa details or request for passport. You can also place requests for any domestic/international travel and make itinerary changes as required. Use our travel advance pages, to request for travel advance, check for travel request disbursement details and expense information.
Leave & Attendance
Absence
If you wish to take leave, request for it using our absence management forms and get the necessary approvals. You can cancel leaves partially or fully as needed. Our Employee Self-service solution also allows you to request for compensatory offs and leave encashment.
Timesheet and attendance
Helps maintain attendance information such as recording attendance, regularizing & tracking them. If your employees work overtime or request for change in their shifts or want permission to leave early, we can help them record and process them as well.
Timesheet
This option helps to plan and track daily activities.
Pay Data
Advance
Request for salary advances within the mentioned date and track the expected settlement date.
Self declaration & Pay Slip
Be it rental declaration, tax declaration, all can be done through SS self declaration option.
Workflow
The workflow in ESS helps employees to get instant access to officiate tasks/roles of one employee to another and to check pending approvals, forms raised by and for them.
Payroll Management
Payroll Management is considered a time consuming and arduous process. Bringing together multiple streams of inputs, adhering to local statutory requirements,
validating the data prior to paying your employees accurately and in a timely manner for it to be managed in-house. YojnaHRMS's payroll software enables you to mitigate these challenges effectively by delivering a seamless payroll processing capabilities. Keeping payroll software in-house ensures integrity and security of data and avoids hassles of dealing with third party vendors during each pay cycle.
With YojnaHRMS's Payroll Software - Always stay compliant with your local regulatory bodies * Improve process efficiency by seamless information flow to payroll * Avoid non-conformances in internal & external HR process audits through a single HR & Payroll system * Avoid penalties due to local regulatory non-compliances and stay abreast to changing compliances as they happen * Stem revenue leakages through accurate capture of attendance data and by accurate calculation of payables/receivables
Configuration
Our software helps create pay groups to group your employees into categories and to map payroll policies to each. You can custom define the various components (earnings & deductions) and map them against these pay groups. Specifying formulas for calculation, with minimal clicks, payroll can be initiated, confirmed and finalized. Salary files can then be generated for direct deposit, cheque or bank credits.
Integration
Payroll process gets all basic employee information including job, compensation, pay group, tax declaration, salary advances and other details from HR system/Self service to accurately calculate their pay & taxes. With tight integration with YojnaHRMS's leave, time and attendance module we ensure the overtime is paid and absence is deducted.
Import features
If you have third party systems to maintain and manage your leaves, time and attendance, we provide you upload facility to import the leave, time data into payroll for appropriate processing.
Loan Master
Using our loan master, you can capture employer provided loans, employee availed, schedules, EMI, deduction per month and include for payroll deductions.
Benefits master
If you provide company based benefits such as insurance, medical coverage, nominees, beneficiaries, to your employees, record them using our benefit master forms. These will be used as deductions during pay processing.
Tax Computations
Country based tax slabs, tax declarations, investments, exemptions; other incomes are maintained and used for processing purposes. TDS Challans can be generated. YojnaHRMS can be used to generate date for eTDS Quarterly return filing.
Letter viewer
Employee can view using their self service, all organization letters, pay slips, tax declarations, offer, promotion and other letters using this feature. Pay slips can be generated in PDF, and can be published into employee self service portal.
All statutory payroll
All statutory payroll reports such as Professional Tax, EPF etc can be instantly derived from the system.
Provisional Settlement
If an employee files resignation, based on his notice period the tentative amount i.e. Full and Final Settlement (F & F) can be calculated using Provisional Settlement feature.
Reopening settlement
Reopening settlement process for resigned employees: YojnaHRMS Payroll software provides an option to create settlement amount, bonuses for employees who have resigned.
Talent Development
Investment in the development of your talent is critical to the sustainability of your organization. With YojnaHRMS's Talent Management functionality - Manage your talent assets and mitigate your talent risk
* Manage your employee development programs * Target development programs based on specific needs for the jobs * Track development records and assess job effectiveness * Define ideal competency for a job, identify talent deficiency and plan development * Build talent internally rather than looking outside YojnaHRMS's Talent Development module helps you track journey of continuous learning for employees of your organization. It gives you the flexibility to define and support the operational needs of the Talent Development process.